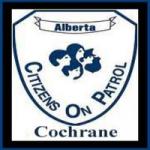 Cochrane Citizens On Patrol
P.O. 1768
Cochrane Citizens on Patrol is a unique and diverse group of committed volunteers dedicated to maintaining a safe and crime free community.
The Cochrane Citizens on Patrol program originated when the Community Policing Advisory Committee expressed an interest in forming a partnership with the RCMP to address problems in the community with regards to break and enters, vandalism, impaired drivers, and young offenders.
Since 1994 our group has continually served the citizens by working in partnership with the RCMP and the community.  We go out into our community and report suspicious activity, suspicious persons or vehicles in the area.
Our Mission: To create a safer community through patrolling, reporting and education.
Our Vision: To be a key member of the community protective services team, recognized as a properly trained, equipped, and motivated volunteer group.
Our Mandate: Achieve the Mission in Cochrane town limits in partnership with the Town and RCMP through the following business lines:
Community Patrols and Reporting of concerns
Speed Watch