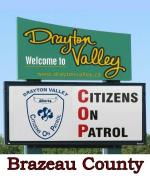 c/o RCMP COP Liaison
P.O. Box 6060
Drayton Valley
,
AB
T7A 1R6
Mission statement
The Drayton Valley Citizens On Patrol of Alberta is an organized group of committed volunteers, helping to maintain a safe and crime free community by reporting suspicious or criminal activity to the local RCMP detachment while doing regular patrols of the town and surrounding areas.
History
The Drayton Valley C.O.P. has been in existence since 2004 providing assistance to the police by patrolling your community to observe any possible criminal activity. By being an extra set of "eyes and ears", the patrol will be able to assist in the deterrence of crime in the areas where you as citizens reside.The patrol is not designed to replace the regular police but allow the police to be able to direct their focus to other areas of potential crime.
The patrol operates under the direction of the NCO i/c of the Drayton Valley Royal Canadian Mounted Police
Contact information:
Mailing address:
Drayton Valley Citizens on Patrol Society
C/O Drayton Valley RCMP
PO Box 6060 - Stn Main
Drayton Valley, Alberta T7A 1R6
 Our new Banner
 Web Page NOT ACTIVE - Aug 2021
We Want You
Membership Drive and Charity Bar B Q Sept 27, 2014

A very successful event thanking DV C.O.P. members for all their help, thanking everyone that attended and donated so generously to both the Food Bank and Santa's Anonymous and the local detachment for their attendance and cooperation.  
Walmart
was instrumental in our success to raise funds for the
Charity Drives
shown above by matching the profit we made from the sale of hot dogs and refreshments in their parking lot. The refreshments and food were free with any donations accepted The generousity of residence in the area made the Charity Drives a huge success. Drayton Valley C.O.P. received this donation from
Walmart
in celebration of their Grand Opening of the Super Centre  
 FIND ME SIGN
A sponsored fun challenge we do in the Drayton Valley Citizens On Patrol.
We have a special one of a kind sign which is placed around town in various areas including residential, commercial and industrial. The challenge is; the first sighting and reporting by any team, C.O.P. member or Detachment member is the winner of a selected treat. Example of the prize may be a purchase at Tim Horton, Pancake Breakfast tickets at the DV 55 Plus Recreation Centre or other small gift.
Here is the sign our teams search for.
Drayton Valley Mayor's Gala - Community Spirit Award
Awarded to Drayton Valley Citizens On Patrol in 2012    
Updated Sept2021