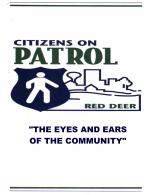 Mobile Number:
403-506-6455
Red Deer City Citizens on Patrol is a program aimed at reducing crime though the active participation of citizens in crime prevention. As the incidence of crime continues to grow, so does the need of citizen involvement. Crime preys on apathy and as there cannot be a police officer on every corner, it is up to every member of the community to assume responsibility for its protection. This involves citizens being alert to the potential of crime and willing to look out for one another's interest.
Citizens on Patrol work with the police and act as "the eyes and ears of the community". They actively patrol the city in pairs of 2 or 3 members and report suspicious or criminal events to the police. Citizens on Patrol volunteers use their personal vehicles while on patrol, have radios and contact the police through cell phones. The patrol shifts are flexible allowing each member the ability to choose the time and duration of their individual patrols. Patrols can happen day or night and are typically 2 - 4 hours in length. Active members are expected to dedicate a minimum of (12) hours per yearly quarter to the program. 
In the past, Citizens on Patrol members have assisted the police by reporting activities that resulted in apprehension of impaired drivers, the recovery of stolen vehicles and the reduction of vehicular vandalism and the theft at our local theaters as well as assisting in the apprehension of suspects by reporting actual crime in progress. The Citizen's on Patrol members have also located robbery suspects and have assisted the R.C.M.P. in locating individuals with outstanding warrants.